Margaret J.P. Birrell
---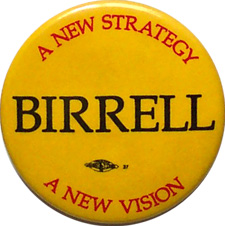 1984 Leadership Campaign
DATE AND PLACE OF BIRTH: .
OCCUPATION: Political Activist; BC Coalition of People with Disabilities Executive Director.
POLITICAL PARTY: New Democratic Party (NDP).
BRITISH COLUMBIA LEGISLATIVE ASSEMBLY (MLA):
1996.05.28 - Vancouver-Little Mountain - Defeated.
1986 - Vancouver-East - Candidate for NDP Nomination - Defeated.
PARTY LEADERSHIP:
Candidate for Leader of the British Columbia New Democratic Party, May 1984. First ballot: 4th place (out of six candidates) with 141 votes (13.4%). Second ballot: 5th place with 134 votes (12.5%). Eliminated after the second ballot, Birrell later endorsed eventual winner Bob Skelly for Leader.