David Black
---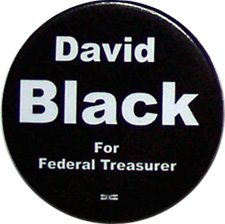 2001
DATE AND PLACE OF BIRTH: .
OCCUPATION: Labor Union Organizer. Political Activist.
POLITICAL PARTY: New Democratic Party (NDP).
PARTY LEADERSHIP:
Federal Treasurer, New Democratic Party of Canada, 2001-2003. Elected at the Winnipeg Federal Convention in 2001. Did not seek re-election in 2003..
HOME | INDEX BY NAME | INDEX BY PROVINCE | INDEX BY PARTY
LEADERSHIP CONTESTS | POLITICAL PARTIES | LINKS | CONTACT RON
© 2007 (et seq) by Ron Gunzburger.