Burnaby Citizens Association
---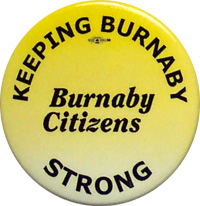 2002
HISTORY: Burnaby Citizens Association (BCA) was founded in 1955.
GENERAL DESCRIPTION: Progressive political organization active in nominating candidates for Council and School Board elections in Burnaby, British Columbia. The BCA has held a continuous majority on the School Board since 1983, and on Council since 1987.
WEBSITE: BurnabyCitizens.ca
HOME | INDEX BY NAME | INDEX BY PROVINCE | POLITICAL PARTIES
LEADERSHIP CONTESTS | LINKS | CONTACT RON
© 2007 by Ron Gunzburger.