Adrian Dix
---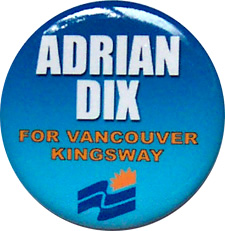 2005
DATE AND PLACE OF BIRTH: .
OCCUPATION: Non-Profit Organization Director; Chief of Staff to BC Premier Glen Clark (1996-99); Political Strategist.
POLITICAL PARTY: New Democratic Party.
BRITISH COLUMBIA PROVINCIAL LEGISLATURE (MLA):
2005.05.17 - Vancouver Kingsway - Elected.
Opposition Caucus Deputy House Leader.
WEBSITES: Adrian Dix, MLA and BCNDP: Adrian Dix.