Mary Beth Dolin
(Mary Elisabeth Dolin)
---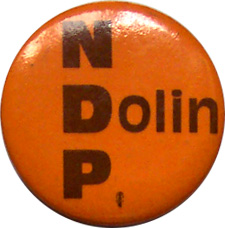 1981
DATE AND PLACE OF BIRTH: 1936.01.25 - Fond du Lac, Wisconsin, United States.
DATE AND PLACE OF DEATH: 1985.04.09.
OCCUPATION: Teacher, School Administrator.
POLITICAL PARTY: New Democratic Party (NDP).
MANITOBA PROVINCIAL LEGISLATURE (MLA):
1985 - Died in office.
1981.11.17 - Kildonan - Elected.
SENIOR MANITOBA PROVINCIAL GOVERNMENT:
Minister of Urban Affairs (1983.11.04 - 1985.01.30).
Minister of Labour and Manpower (1982.07.19 - 1985.01.30).
Minister responsible for the Status of Women (1982.07.19 - 1985.01.30).
MISCELLANEOUS:
Dolin's husband, Marty Dolin, was elected in the 1985 by-election to fill her vacant seat in the Manitoba Legislature.