Marijuana Party of Canada
Parti Marijuana du Canada
(Federal)
---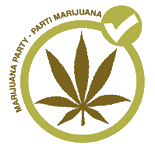 LEADER / LE CHEF: Blair T. Longley.
BRIEF HISTORY: Marc-Boris St-Maurice -- a Quebec legalization activist and member of the punk group GrimSkunk -- founded the Bloc Pot provincial party in Quebec in 1998. Soon after, he founded the federal Marijuana Party of Canada in 2000. In the 2000 elections, the MPC nominated 73 candidates, none won, and captured won 66,419 votes (0.5%). In 2004, the party nominated 71 candidates, none won, and captured 33,590 votes (0.3%). In 2006, the MPC ran only 23 candidates and captured 9,275 votes (0.06%).
GENERAL DESCRIPTION: The Marijuana Party has a one-issue platform: legalize marijuana/cannabis. Beyond that single issue, party candidates are free to espouse their individual views on all other issues.
MAIN WEBSITE: MarijuanaParty.com and PartiMarijuana.ca
FEDERAL PROVINCIAL & RIDING AFFILIATES:
Marijuana Party of Canada: British Columbia