Alberta Alliance
(Provincial Party)
---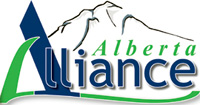 LEADER: Paul Hinman.
STATUS: Holds 1 of 83 seats.
OFFICIAL WEBSITES: AlbertaAlliance.com and Alberta Alliance Opposition (Parliamentary Caucus)
PROVINCIAL RIDING ASSOCIATIONS:
No known riding association websites. If you know of any, please let us know.
HOME | INDEX BY NAME | INDEX BY PROVINCE | POLITICAL PARTIES
LEADERSHIP CONTESTS | LINKS | CONTACT RON
© 2007 by Ron Gunzburger.