Christian Heritage Party of Canada
Parti de L'Héritage Chrétien du Canada
(Federal)
---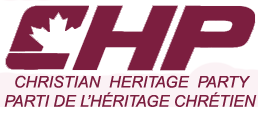 LEADER / LE CHEF: Ron Gray.
BRIEF HISTORY: Founded in 1987, the CHP advocates the governance of Canada according to biblical teaching, which it describes as "the inspired, inerrant written Word of God." Fielded first federal candidates in 1988. To date, no CHP candidate has won a federal election.
GENERAL DESCRIPTION: The CHP is both socially and fiscally conservative and the CHP platform sets forth a central goal of applying "proven Judeo-Christian principles of justice and compassion to Canada's contemporary public policy needs." The CHP claims to be Canada's only pro-life federal political party. The CHP also staunchly opposes same-sex marriage, supports the US-led Iraq War, and supports a federal subsidy for parents to enable one parent to stay home to raise the children.
WEBSITE: CHP.ca.
FEDERAL PROVINCIAL & RIDING AFFILIATES: