Christine Elliott
---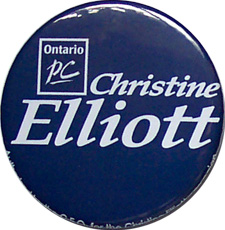 2006
DATE AND PLACE OF BIRTH: Oshawa, Ontario, Canada.
OCCUPATION: Lawyer. Community Activist.
POLITICAL PARTY: Progressive Conservative.
ONTARIO PROVINCIAL LEGISLATURE (MPP):
2006.03.30 (By) - Whitby-Ajax - Elected.
MISCELLANEOUS: Elliott was elected in the March 2006 by-election to fill the seat left vacant by her husband Jim Flaherty, who resigned as an Ontario MPP to run in the January 2006 federal election.
WEBSITE: Christine Elliott MPP